Blackburn Cabins is located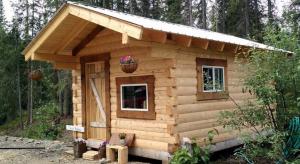 near local tourist sites, convenient to the airport, yet in touch with nature and close to the land which is the Wrangell-St. Elias National Park.
Spend the night away from the hustle and bustle of downtown McCarthy, but close enough to walk or bike to town and get a beer, a nice meal or visit the museum. Be part of the fun, local activities but be able to escape the noise and lights of downtown back to your quiet little cabin. Blackburn Cabins is close enough to take part in the fun that is McCarthy but far enough away to enjoy the quiet of the Wrangell Mountains.
Perfect for the many families and tour groups that come through the area. Families will have the privacy they want and groups will be able to spread out a little but still be close enough to enjoy the local activities.
There is wonderful hiking right from your front door. We're just a quick little walk from the "Toe of the glacier", with it's million dollar views of The Stairway Icefall, Bonanza Ridge, and the 16,390 ft. Mount Blackburn. Keep your eyes open. Bears, wolves, foxes, and moose are commonly spotted here on the dryas flats, accompanied by the sounds of the glacier.
---
---
Blackburn Cabins is nestled into the forest near the toe of the Kennicott Glacier. Our five eco-friendly, private log cabins offer a comfortable place to rest after a day of exploring the Wrangell-St. Elias National Park. The cabins, completed in 2016,
were modeled after nearby original trapper cabins and named to honor local old time McCarthy-ites.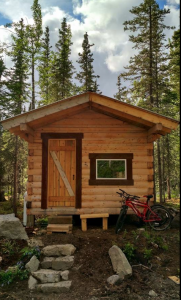 Each cabin is equipped with:
– 2 super comfy full size beds
– a small kitchen set up with a single burner cooktop, dishware, and running water
-a shared gas grill with plenty of pots and pans
– a drinking water filtration system
– a refreshing outdoor showerhouse with hot water (also considered a luxury in this neck of the woods!)
– a real Alaskan outhouse
– 100% cotton or bamboo linens and towels
– a propane heater in each cabin (allowing for year round reservations!)
– 4 bicycles per cabin
We want you to have the best experience here possible! We offer guided hikes! We live here and enjoy the opportunity to get out and see the land that we love also, or we can save you the hassle of deciphering which guide company is best and point you in the direction of the adventure that's right for you. Whether it be boating, ice climbing, or flying over the endless mountains, we can help arrange your Alaskan trip of a lifetime! Give us a call!
We welcome guests year round! Our cabins are each equipped with heaters and situated perfectly for winter snowmachine access. And you can snowmachine right to your front door!
Check out our pages or give us a shout for additional information and to make reservations for your stay in the Wrangell-St. Elias National Park area. We'd love to help you out with your plans. This is the largest (and we think the most beautiful!) National Park in the United States and we hope you will join us here in the Wrangell Mountains for your Alaskan adventure!


<- share