In 1996, Mark's love of the wilderness brought him to McCarthy. Soon after, he bought land and built a log cabin which he lives in today. He has worked for the National Park Service on the historical building restoration project in Kennicott for 15 years, providing him with a cultivated knowledge of the Copper Valley. In 2012, Mark purchased 2.5 acres of land along the Kennicott Wagon Road, with dreams of building small cabins to rent to guests visiting the Wrangell-St. Elias National Park.
Livvi first visited McCarthy in 1998 and returned in 2013 to work as a guide. She and Mark met in 2013, but it wasn't until a trip to Central America that they began dreaming and working together on Blackburn Cabins. In 2015, construction on the cabins was complete, and Livvi joined Mark to add the finishing touches and to begin managing the cabins.
Mark continues to work for the National Park Service, but they are working toward becoming self sufficient. Mark and Livvi plan to build additional cabins to be available in coming years.
And we hope to see you this summer at Blackburn Cabins!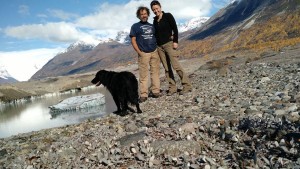 <- share