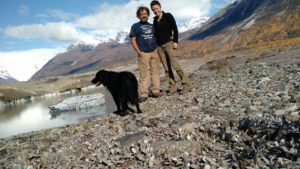 In 1996, Mark's love of the wilderness brought him to McCarthy. Soon after, he bought land and built a log cabin which he lives in today. He worked for the National Park Service on the historical building restoration project in Kennicott for 16 years, providing him with a cultivated knowledge of the Copper Valley. In 2012, Mark purchased 2.5 acres of land along the Kennicott Wagon Road, with dreams of building small cabins to rent to guests visiting the Wrangell-St. Elias National Park.
Livvi first visited McCarthy in 1998 and returned in 2013 to work as a guide. She and Mark met in 2013, but it wasn't until a trip to Central America that they began dreaming and working together on Blackburn Cabins. In 2015, construction on the first two cabins was complete, and Livvi (and Tuesday, the black dog!) joined Mark to add the finishing touches and to begin managing the cabins.  In 2016, two more Cabins were built, and in 2019, another three cabins were completed.  Recently, Mark resigned his long-held position for the National Park Service Kennicott, and now is full time with Livvi at Blackburn Cabins!
---
Kyrsti and Riley are going on three years helping us out here at Blackburn Cabins.  They like the area so much, after their first year they even bought land here!  They have become some of our best friends and we spend last winter traveling in South America together!  They (and their dog, Opie!) are who you are likely to see more of while you're staying at Blackburn Cabins.  Kyrsti and Riley keep the Cabins running smoothly and we're very glad to have them on our team!
---
We hope to see you this summer at Blackburn Cabins!  Everything is always better in the Wrangell Mountains!


<- share