Blackburn Cabins is located at:
Mile 1 Kennicott Wagon Road
McCarthy, Alaska
Wrangell-St. Elias National Park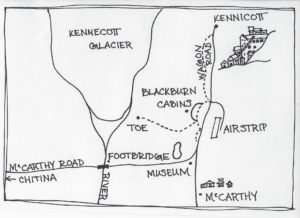 If you drive or take a shuttle to the end of the road, you park there and walk across the Kennicott River on a footbridge and then, we'll drive you the mile to the cabins. From there, you can explore by bike (we have many available!) or walk or shuttle.
You can also fly in or come in on the mail plane from Anchorage. We are adjacent to the McCarthy Airstrip, which now provides fuel.
We are located in the center of the Wrangell-St. Elias National Park, along the five mile wagon road connecting McCarthy and Kennicott (within a mile from the footbridge and McCarthy).
Just across from the airstrip, we are a short walk or bike ride from…
Come by car, shuttle or plane… we look forward to seeing you!
If we can help with your travel arrangements in any way, please call or email us!


<- share