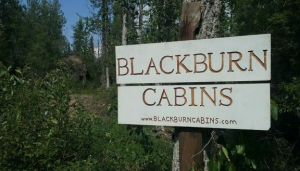 Blackburn Cabins is located in McCarthy/Kennicott, Alaska: Your home away from home in the Wrangell Mountains! Stay with us in your own luxurious little cabin in the woods. Your cabin comes with free bikes to use to explore historic Kennicott and McCarthy, and the natural beauty of the Wrangell-St. Elias National Park.
We are conveniently located on the wagon road between McCarthy and Kennicott, Alaska, within a mile of the footbridge or McCarthy! Blackburn Cabins is quietly nestled into the forest, just a stones throw from the airstrip. It's a short bike ride to town or the airstrip.
Check out our pages for additional information and to make reservations for your visit to the Wrangell-St. Elias National Park. It is the largest (and we think the most beautiful!) National Park in the United States.
We hope you will join us here to the enjoy the Wrangell St.-Elias National Park for your Alaskan adventure!
Read on for Summer Specials!  You've never seen the Wrangell Mountains the way we can show you the Wrangell Mountains!
Check out Blackburn Cabins on TripAdvisor!
For a current weathercam video from Copper Valley Telephone, click here.
For more information or to make a reservation, call +1 (907) 231-6227 or contact us!


<- share