McCarthy and Kennicott, Alaska are known for the Wrangell-St. Elias National Park and the historic mines in Kennicott, and there is so much to explore! We offer our guests guided hikes to the Root Glacier and up to the Bonanza and Jumbo Mines. We're here for you, so the journey will be tailored around your desires and capabilities. For each adventure, we will pick you up from the front door of your cabin and drop you back off at any time that is convenient for you!
---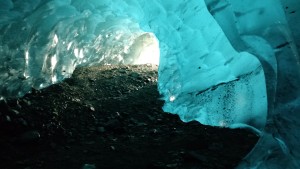 ---
GLACIER HIKES: 4-8 hours
At your convenience, we'll pick you up from your cabin and head out on a hike on the Root Glacier. A surreal experience of blue and white ice that you'll never forget! We'll take you to another world of water and ice. Pools of blue, moulins, and waterfalls flowing over white cliffs of ice.
There are many features on the glacier to explore and see, depending on your skills and ability. Because of the small group size, you'll be able to see more… and more of what interests you. There are a lot of big companies taking groups out on the glacier, but at the most your intimate group will only be 2-4.  Most people are back in about 4 hours, but if you want to, you can continue on and make a longer day of it!                                                    $150/person
---
MINE HIKES: 7-9 hours
An incredible journey, beginning in Kennicott and taking you to the spirey peaks up high in the Wrangells. Men pulled metal out of the mountains. Copper!  Come explore one of the 3 mines: Bonanza, Jumbo, or Erie, at your pace. It's a long trek up and not for the faint of heart. The beauty is beyond compare, with hundreds of flowers blooming and the possibility to see bears, sheep, goats, or the elusive wolf! This is true wilderness in the most beautiful mountains in the world! It would be our pleasure to show you why we call the Wrangell Mountains home!
Some of the best views are from the hikes up to Bonanza and Jumbo Mines. Each trail leads 4000 vertical feet above Kennicott, giving you spectacular views of the valley. Once there, you can explore what remains of the mines and their bunkhouses… and what was left behind!
$200/person
All adventures have a 2 person minimum.


<- share